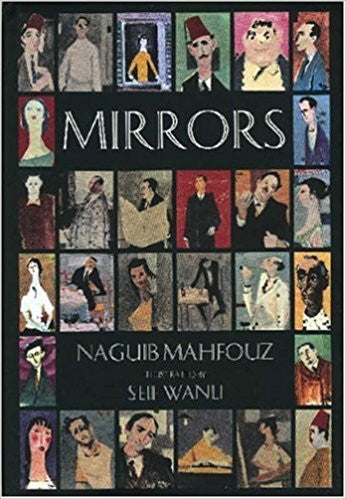 Mirrors by Naguib Mahfouz
Mirrors is one of Nobel laureate Naguib Mahfouz's more unusual works. First published in serialized form in the Egyptian television magazine, it consists of a series of vignettes of characters from a writer's life -- a writer very like Mahfouz himself. And accompanying each vignette is a portrait of the character by a friend of the author, the renowned Alexandrian artist Seif Wanli.
Through each vignette -- whether of a lifelong friend, a sometime adversary, or a childhood sweetheart -- not only is that one character described but much light is thrown on other characters already familiar or yet to be encountered, as well as on the narrator himself, who we come to know well through the mirrors of his world of acquaintances.
At the same time, Mirrors also reflects the recent history of Egypt, its political movements, its leaders, its wars, and its peace, all of which affect the lives of friends and enemies and of the narrator himself. As the translator writes in his introduction, "the narrator's acquaintances from childhood, schooldays, and civil service career take him from the lofty heights of intellectual salons to the seamy squalor of brothels and drug dens; from the dreams of youth and nationalistic ideals to the sobering realities of post-revolutionary society and clashing economic and political values."
The apparently simple but penetrating portraits by Seif Wanli add an extra, distinctive dimension to this already intriguing book. They originally appeared with the serialized texts in the television magazine, but were omitted when the book was first published in 1972, and were also omitted when the English translation first appeared in 1977. Now, in this special edition, the pictures and the complete text appear together for the first time.