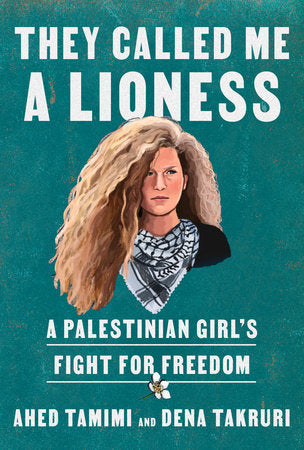 They Called Me a Lioness: A Palestinian Girl's Fight for Freedom by Ahed Tamimi and Dena Takruri
"I cannot even begin to convey the clarity, the intensity, the power, the photographic storytelling of They Called Me a Lioness. Ahed Tamimi and Dena Takruri lay bare seemingly every terrifying aspect of Israel's apartheid against Palestinians, and the relentless freedom fight of Palestinians and their Israeli allies. Read and bear witness." --Ibram X. Kendi, internationally bestselling author of How to Be an Antiracist
"A powerful, moving combination of a memoir of personal resistance with a panoramic overview of the history of Palestine that leaves the reader with a detailed understanding of the daily realities of life under Israeli military occupation." --Omar Robert Hamilton, author of The City Always Wins
"With more courage than any child should ever have to possess, Ahed Tamimi showed the world more than once what it looks like when you refuse to consent to your own obliteration. In this gripping, painful, and inspiring book, she tells the parts of the story that the cameras always miss: the slow and grinding humiliations of the occupation; the heartache of losing loved ones to Israeli prisons and guns; the cruelties of imprisonment; the love, laughter, and strength in solidarity that are necessary to keep living, breathing, and fighting against enormous odds. For anyone planning to stay alive on this planet in these perilous times, They Called Me a Lioness is urgent and essential reading." --Ben Ehrenreich, author of The Way to the Spring
"This passionate memoir shines a floodlight on a people, a place, and a problem that the world too often discounts. Beautifully written, They Called Me a Lioness humanizes the daily headlines of occupation and resistance. Tamimi's story will rattle your soul and ignite calls for justice, equality, and peace." --Dr. Mona Hanna-Attisha, author of What the Eyes Don't See
"What would you do if you grew up seeing your home repeatedly raided? Your parents arrested? Your mother shot? Your uncle killed? Try, for just a moment, to imagine that this was your life. How would you want the world to react?"
Ahed Tamimi is a world-renowned Palestinian activist, born and raised in the small West Bank village of Nabi Saleh, which became a center of the resistance to Israeli occupation when an illegal, Jewish-only settlement blocked off its community spring. Tamimi came of age participating in nonviolent demonstrations against this action and the occupation at large. Her global renown reached an apex in December 2017, when, at sixteen years old, she was filmed slapping an Israeli soldier who refused to leave her front yard. The video went viral, and Tamimi was arrested.
But this is not just a story of activism or imprisonment. It is the human-scale story of an occupation that has riveted the world and shaped global politics, from a girl who grew up in the middle of it . Tamimi's father was born in 1967, the year that Israel began its occupation of the West Bank and he grew up immersed in the resistance movement. One of Tamimi's earliest memories is visiting him in prison, poking her toddler fingers through the fence to touch his hand. She herself would spend her seventeenth birthday behind bars. Living through this greatest test and heightened attacks on her village, Tamimi felt her resolve only deepen, in tension with her attempts to live the normal life of a daughter, sibling, friend, and student.
An essential addition to an important conversation, They Called Me a Lioness shows us what is at stake in this struggle and offers a fresh vision for resistance. With their unflinching, riveting storytelling, Ahed Tamimi and Dena Takruri shine a light on the humanity not just in occupied Palestine but also in the unsung lives of people struggling for freedom around the world.

Ahed Tamimi is a Palestinian activist from Nabi Saleh in the occupied West Bank. As a child, she rose to global prominence for confronting Israeli soldiers during weekly demonstrations, which led to her imprisonment at the age of sixteen. She is studying international law at Birzeit University and plans to use her degree to advance the struggle for a free Palestine.
Dena Takruri is an award-winning journalist who has reported extensively on the Israeli occupation of Palestine, Europe's refugee crisis, and other global struggles. The daughter of Palestinian immigrants, Dena was born and raised in the United States, yet spent many summers in Palestine. She is a Senior Presenter and Producer at AJ+ and has previously worked at HuffPost Live and Al Jazeera Arabic.
Year: 2022
Hardcover